Custom Beach Cruisers: Stand Out From The Crowd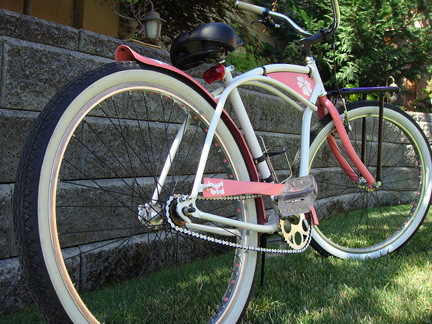 Custom Beach Cruiser Parts & Accessories
There are many ways in which you can customize your bike. There are subtle ways that most people won't notice, like changing out the pedals or a subtle change to the tires, maybe even a bell. But then there are huge changes like dramatic handlebars or a functional or cute basket to add to those handlebars. How you decide to customize your beach cruiser bike is completely up to you and there are literally millions of ways to do it when you think of all the options available.
Beach Cruiser Seat
When changing out the seat of your beach cruiser, don't just compare looks. Remember, you are going to be sitting on this the entire time you are riding your bike, so you want it to be comfortable as well. There are many manufacturers of beach cruiser bike seats that combine functionality with fun, so make sure to go for one of those!
Beach Cruiser Tires
Tires for anything that is ridden, be it a bicycle or a car, dramatically affect riding performance. You can choose tires that are specifically made for riding through sand or loose gravel, or even just on pavement if you are going to be riding on campus. You also have a choice on colors. You can choose the traditional beach cruiser whitewall tires or you can go with solid black. However, many companies are making beach cruiser tires that are solid colors that aren't black, such as mint green or off white so you can match your tires to the color of your beach cruiser if you'd like.
Beach Cruiser Fenders
Fenders on a beach cruiser bike make it look retro and that's all the rage these days. In fact, what's the point of having a beach cruiser if you don't want the smooth ride and the retro look? There are many types of fenders from full fenders to short ones and color matched to chrome, so look for ones that match your individual taste and what you think will look the best on your custom beach cruiser bike.
Cruiser Bike Handlebars
There are handlebars that are wide and give you a comfortable stance when sitting on the bike. Then there are others that are shorter that make for a smaller turning radius that may be better if you are shorter. Then, if you really want to make a statement, go for the tall cruiser bike handlebars and cruise around in style – everyone will be looking your way!
Custom Beach Cruiser Grips
You may decide to change the grips on your beach cruiser for several reasons. One is comfort. Two is color. And three is coordination. The comfort is easy to fix as there are many grips that are ergonomically shaped to fit the hand and reduce sweating. Color and coordination are also easy to fix as sometimes you can get a seat and a set of grips that match – coordination – or you can pull a color out of a design element on your seat and choose a set of grips in that color – thereby adding extra color.
Beach Cruiser Pedals
This is one of those items that I mentioned most people don't notice unless you point it out to them. Well, they will also notice it if they ride the bike. That's because many aftermarket pedals are made to be more comfortable than the ones that come on bikes straight out of the box, and since a lot of people wear thinner shoes while riding beach cruiser bikes, or even pedal bare foot, having more comfortable beach cruiser pedals can be a really smart upgrade.
Beach Cruiser Basket
The basket on the front of a beach cruiser doesn't just have to look pretty, it can also be functional, but functional doesn't have to mean it looks bad. There are ones made from metal, ones made from plastic, and yes, even the old-fashioned wicker ones are still made. It all depends on what you plan to do with it and what kind of look you want for your bike. If you want to put your little pooch in there and he or she is tiny, a wicker one might be best so it doesn't hurt their paws. Because they are more enclosed, it may also make them feel more secure. Beach cruiser baskets made of metal or plastic also tend to be bigger so if you need to haul items from a store or books from class, then those might be your best bet.
Cruiser Bike Lights
If you are going to do any riding at night, it is always a safe idea to upgrade your beach cruiser bike with some lights so that people can see you, even if it's just on campus and there are lights around. You want to know that people can see you at all times. This will decrease the likelihood of there being any mishaps or accidents while you are riding at night.
Beach Cruiser Bell
A bell is one of those classic items that every beach cruiser bike has to have if you're going for a retro look. Plus, it doesn't help to be able to let people know you're coming without having to yell for them to get out of the way for you every time, you know? Everyone knows the classic sound of a bicycle bell and most people will look to make sure they aren't in the way of someone.
Beach Cruiser Bike Rim Skin & Spoke Reflectors
If you'd like your rims to stand out, rim skins can definitely help you can make them the same color as your bike, or you can make them a totally different color to make them pop, the choice is yours! Spoke reflectors also make your rims stand out even during the day, but are especially helpful for night riding as they can bring attention to you when people are driving so that people know to steer clear so there are no accidents.
Cruiser Bike Mirrors
If you're on your bike all the time, you know how hard it is to turn your head to look around you for oncoming traffic with the wider handlebars (or even wider if you've upgraded them), so adding cruiser bike mirrors may be a good idea not only from an aesthetics standpoint, but also from one of safety. Mirrors can be all different shapes and sizes and they can even be different colors to contrast or match with the color of your bike.
Beach Cruiser Bike Pump
Having a bike pump with you while you're riding around is always handy – you never know when you're going to need it – however, you also don't want a clunky thing attached to your bike either. You want your cruiser to look nice! They have smaller bike pumps that can attach under the seat or along the bottom of the inside rail of the bike so that it's there, but not the focus of the bike. However, for people who do happen to notice it, they will know you are a person who is prepared!
Locks for Custom Beach Cruisers
It's important to always lock your bike up when you park it, even if you can still see it when you go inside for a cup of coffee at your favorite coffee shop. It only takes a second for someone to ride away on it. However, that doesn't mean that you have to have a big ugly lock to attach it to a pole either! Look for a lock that has a color that is similar or contrasts nicely with the color of your bike, and look for one that has a smooth, bendable coating on it so it doesn't scratch your bike's paint or powder coat.
Beach Cruiser Water Bottle Holder
If you are going to be out in the sun for any length of time, you need to stay hydrated, but if you are going to be riding your beach cruiser as well, then you need to make especially sure that you are drinking plenty of water. Having a water bottle holder attached to the top internal rail of your beach cruiser will make sure you can always grab something to drink on the go. There are many sizes and designs to choose from, and you can even get different colored bottles as well.
Also read: