Top 3 Quiet Bike Trainers: Train Indoors Without Upsetting The Neighbors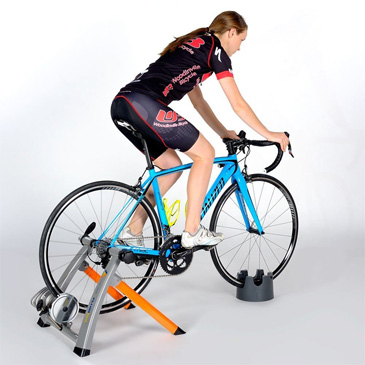 Now the best bike trainers offer a lot as indoor cycling training units where athletes can tune their muscles at home and cycle all-year round oblivious to extreme weather outside. A good quiet bike trainer tends to fulfill some universal functions. They are:
Lightweight so it is portable
Operates effortlessly and makes negligible noise
Is easy and quick to setup
Can be attached with any bike
The resistance is progressive and smooth
Now just like the bike itself, these advanced options would mean that careful engineering and manufacturing needs to be done to produce the tight tolerances and precise designs that make up these good trainers so it is no surprise that the price shoots up beyond the capacity of an ordinary cycle hobbyist. Normally, top cycle enthusiasts are the ones that can afford  and frankly need these trainers, so here are three of these amazing quiet bike trainers that they will really like and appreciate. Once again we present you with three models with the price increasing with each model.
Quiet Bike Trainers
Compatibility
Type
Extras
Price

Kinetic Magnetic 3.0 Trainer

22 to 29" wheels
Magnetic
9 levels of smooth, quiet resistance; large flywheel
$$
Check Price on Amazon

Cascade Health & Fitness Fluidpro Bike Trainer

24"- 29" wheels
Fluid
Heavier Flywheel For Better Performance;
Smooth Progressive Resistance
$$
Check Price on Amazon

CycleOps JetFluid Pro Trainer

650b, 700c, 26", 27" and 29" wheels
Fluid
Self-centering bike attachment head;
Unit folds very flat
$$$
Check Price on Amazon
1. Kinetic Magnetic 3.0 Bike Trainer Review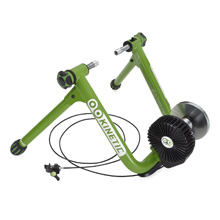 The Kinetic Magnetic 3.0 Trainer from Kinetic by Kurt is a good place to start. Despite being a magnetic functioning design, it is a good value for money in this category.
According to the manufacturers, it has been made from the lightest of metals used in the industry giving it the power of mobility unlike anything seen before. With over 9 levels of extremely smooth bike resistance in the functionality and the largest flywheel of any kind in the home-based bike trainers, the trainer does really well as far as specs are concerned. It also fits a whole variety of tyre sizes from 22-29" so everyone can make this stand their own. A lifetime warranty for all the parts in the trainer is an icing on top but let's take a step back and do some critical analysis in light of customer comments and performance benchmarks.
Now most of the high-end trainers are fluid-based then how does this magnetic one come into the picture? Weren't they supposed to be cheap stuff? Well folks, thanks to some great engineering, this magnetic trainer is one of the quietest bike trainers you will ever see and the resistance is smooth and progressive, offering some of the best in the medium speed ranges that some fluid ones can't even boast.
Many customers were also perplexed at how a magnetic one could be working that well and have asked questions regarding the difference between a regular $70 magnetic trainer from this one. On consulting the feedback from buyers, it can also be confirmed that a heavy majority was satisfied with the sound levels and its resistance kicking in smoothly. A few more competitive people didn't like it, but then it is not the most high-end machine is it?
It has also garnered praise for easy setup and good workout performance. It is another product where I don't see any reviews less than three stars so its worst reviews give it at least an average rating so that's all you need to know about it. A really good trainer!
Check Price on Amazon
2. Cascade Health & Fitness Fluidpro Bike Trainer Review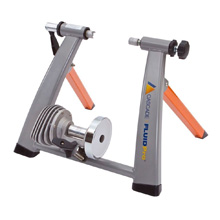 The Cascade Health & Fitness Fluidpro Bike Trainer from Cascade Health & Fitness is a  fluid-based trainer and is expected to fetch a lot of value for its somewhat higher price tag.
The company description states that it has an extremely compact and lightweight design that helps improve your cycling stance and agility by mimicking the whole process as close to reality as possible. With a heavier-than-usual flywheel, a satisfactory performance is expected from the trainer even for the more advanced cyclists. It has an industrial coating on top of it so it can be used outdoors for extended timeframes and has double seals to ensure that there are no leakages in case of rain so it is great for an outdoor workout as well. Other than that, there are the familiar claims of smoothest progressive resistance and quiet operations. The resistance fluid is thermally sealed to increase the product lifecycle as well.
Onto the tricky customer evaluation section. This trainer has one of the best reviews in the bike trainer industry with an average rating of 4.5 out of five. A heavy majority 85% found it to be a great trainer that was easily deployed and setup with their bikes. The machine was quiet and the fluid resistance was smooth and progressed well with time. Now this product had no three star reviews but some 2-star ones were present. It means that there is a chance you either like or dislike the product entirely with no middle ground. A few disgruntled customers have reported issues ranging from higher than expected noise levels and the unease of removing or attaching their bike.
But, a good inspection shows that many of the users were probably high-end and demanded a lot from their trainers. And since there are other bike trainers that are even more expensive with better functionality, somebody had to be disillusioned by its performance and those 5% were the ones that gave it a bad review. But, overall it can be assured to have a solid long-term performance.
Check Price on Amazon
3. CycleOps JetFluid Pro Trainer Review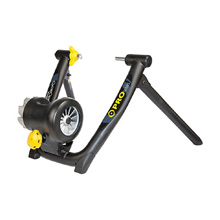 The CycleOps JetFluid Pro Trainer by Cyclops company is the most expensive and high-end quiet bike trainer on this list. Its flywheels remain cool and provide optimum performance. The CycleOps has a self-centering bike attachment head, that is unique in the list. There is no need to make setup adjustments at all and that takes the game up a notch from the other two. It also folds itself neatly and flatly into the packaged position so that it can be stored below a conventional bed with ease, hiding it from plain view when not in use.
So, at this price point, you are guaranteed a quiet bike trainer that can disappear at your discretion so you no longer need to dedicate a lot of space just for your indoor biking pleasure.The CycleOps has a nice aluminum build with an amazing finish as well. It is being sold and marketed as the trainer with the best road-like feel and it isn't that inaccuate to say it. The trainer is immaculately designed.
With a 4.5-star average rating, the product is really sturdy and people have left some really good reviews for it. It has no reviews below the four star rating and that speaks volumes of about the product quality as even the predecessor had some bad reviews due to one issue or another. So, in the absence of low ratings, it is really difficult to see what could be wrong with the CycleOps trainer and the only downsides we could locate were the price and it performing not too admirably for duplicating climbs.
Check Price on Amazon
So, What's The Best Quiet Bike Trainer?
The CycleOps JetFluid Pro Trainer despite being slightly more expensive than the Cascade Health & Fitness Fluidpro Bike Trainer seems to be an excellent and quiet bike trainer with handy features and quality engineering behind it. The Kinetic magnetic trainer is much cheaper but its utility is the maximum that can be offered by a magnetic-based trainer.