4 Mint Green Beach Cruiser Bike Reviews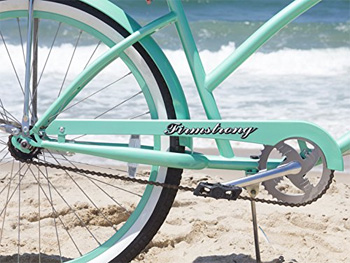 Cruising the beach on a mint green beach cruiser bicycle was all the rage back in the day and that makes it retro. So, of course it's going to be back in style in its own unique way this time. Mint green beach cruiser bikes are coming back and are as popular as they were back then. Now, they're just a bit more comfortable and, of course, made from better materials that hold up a bit longer. Let's look at four of the top selling beach cruisers (that also happen to be mint green) so you can see what's out there, and compare while you're shopping.
Firmstrong Bella Classic Beach Cruiser Bicycle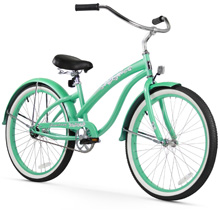 The Firmstrong Bella Beach Cruiser comes in 2 different heights: 24" (for those between 4' and 5" 2") and 26" (for those between 5' and 6'). You can also get it in three speed types: single speed, three speed, or seven speed. The single and three speed are best for casual riders who don't go very fast and don't go over many hills.
Both of these speed types come with coaster brakes. The seven speed is for a more advanced rider who will be going faster, going over more hills and bumps, and will need to stop faster, as this speed setup also comes with hand brakes. The design of this bike is beautifully elegant with color matched fenders and oversized, whitewall tires. It gives the retro design of a beach cruiser bike that we all want to see.
Pros:
Oversized, double spring seat
Synthetic leather hand grips
Pant cuff guard
Comes 80% assembled and the rest is easy to put together
Cons:
350 Pound weight limit
Cannot be shipped outside of the US
What Users Say:
The bike has a smooth ride that everyone seems to love with the nice wide tires and comfortable seat. A few people report that they were shipped an incomplete bike package, and if they were, most of them were missing the bar that attaches the front fender, the seat post, the hardware package, or a combination of these things. However, this seems to be a rare occurrence and it is always taken care of very quickly by the manufacturer.
Firmstrong Chief Lady Beach Cruiser Bicycle – 26"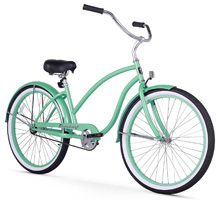 The Firmstrong Chief Lady Beach Cruiser's main feature is its elongated frame which makes it ideal for taller riders. It will accommodate riders between 5' 4" and 6' 4". The pedals are set forward so that you still get the proper leg extension when riding, and you also sit up straight like you would on any beach cruiser, but you sit farther back and your feet reach out in front of you.
The handlebars come back to reach you which is a bit unique. This bike has a 19" frame made of durable steel, and 26" wheels made of lightweight aluminum, and is available in three speed types: single speed, three speed, or seven speed.
Pros:
Whitewall balloon tires for a smooth ride even over bumpy terrain
Wide seat with dual springs to add to that cushiony ride
Comes 80% assembled
Adjustable seat and handlebars
Cons:
45 Lbs. shipping weight
Assembly instructions for other 20% can be difficult to follow
What Users Say:
Many users are pleased that this is a heavier bike, so it can allow for a bit heavier use and stand up to heavier wear and tear while still looking new.
Fito Marina Alloy 3-Speed Mint Green 26" Beach Cruiser Bicycle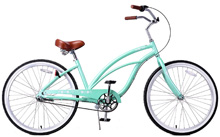 This lightweight mint green beach cruiser bicycle takes it simple and old-school with its retro stylings. Fender sets are available that color match, although you must purchase them separately. They are not too expensive and if you love the look of the fenders on these beach cruiser bikes then they are well worth the investment.
The 3-speed shifter is a Shimano gear shifter system. You are in for a comfortable, smooth ride with the wide, whitewall tires and the wide, dual-spring seat.
Pros:
Anti-Rust
Comes 85% pre-assembled (must add the front wheel, handlebar, seat and pedals)
Rubber grips
The seat lowers to a minimum of 29" so that it can accommodate someone as short as 4' 10" or someone as tall as 5' 10"
Cons:
200 Lbs. Max
Professional assembly is recommended
The coaster brakes are sometimes not adequate for the speed the 3-speed beach cruiser can get up to
JBikes Chloe 26-Inch Single Speed Women's Beach Cruiser Bicycle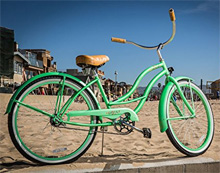 This mint green beach cruiser bike will have you styling all around town as well as the beach. It has a 15.5" steel frame with 26" whitewall tires. Both the seat and the grips are brown synthetic leather with stitching and custom flower decals. This bike has alloy mint green rims with white spokes to match the whitewall tires. Standard features include a kickstand and coaster brakes.
It will fit a woman anywhere from 5' 1" to 6' 2". The floral decals on the frame and the chain guard are completely removeable with no damage to the paint.
Pros:
Smooth ride
Matching color fender brackets
Extra padded saddle
Cons:
Must pay to return the product if there is an issue
Paint color is off sometimes
What Users Say:
Many people noticed that this beach cruiser bike comes in a lot of pieces, but with a little bit of brain power they could put it together. Others just took it to a shop and had them assemble it for them. JBike offered a small refund or a part in exchange for the hassle (i.e a horn). Because you can take the decals off or leave them on, and because you remove the fenders if you'd like, this bike is fully customizable to your own personal look.
Mint Green Beach Cruiser Bikes
Cruising around the shopping district, the boardwalk, around campus, or around town is a lot more fun when you can do it in style. So get yourself a mint green cruiser bicycle and show off a bit of your own personality while you are out in public. Your friends and family will notice you, and so will everyone else.