4 Best Women's Beach Cruiser Bike Reviews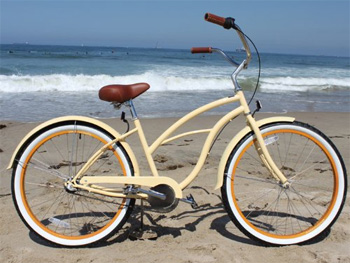 If you're in the market for a women's cruiser bike, then you want to know you're getting the best. These four bikes are not only top sellers but also top of the line, and we've reviewed them for you so you can see everything you need to about them all right here in one place. Comparison shopping is important these days and so is getting exactly what you want for your money. Let's look at these four women's beach cruiser bike reviews to see which one would be best for you.
| Women's Beach Cruiser Bikes | | Wheel sizes | Gears | Brakes | Price | |
| --- | --- | --- | --- | --- | --- | --- |
| Firmstrong Urban Lady Beach Cruiser | | 24", 26" | Single, three, seven speed | coaster / hand | $$$ | Check Price On Amazon |
| Schwinn Ladies 26" Perla Cruiser | | 26" | Seven speed | coaster / hand | $$ | Check Price On Amazon |
| Huffy Nel Lusso Women's Cruiser | | 26" | Single speed | coaster | $ | Check Price On Amazon |
| sixthreezeo Women's Beach Cruiser | | 26" | Single, three, seven speed | coaster / hand | $$$$ | Check Price On Amazon |
Firmstrong Urban Lady Beach Cruiser Bicycle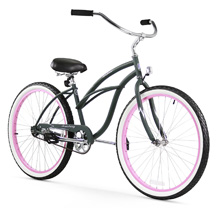 This beach cruiser comes with many options including color, size, and how many speeds you want. Starting with size, you can get either 24" or 26" wheels on the 15.5" frame. The 24" bike is best for those between 4' and 5' 2" and the 26" bike is best for those between 5' and 6'. Then you can choose whether you want a single speed, three speed, or seven speed beach cruiser.
The single and three speed each have pedal brakes while the seven speed – because it is capable of faster speeds – is equipped with hand brakes. All of them have that classic, oversized, comfy seat with dual-springs, along with the oversized, balloon, whitewall tires to make for a very comfortable ride.
Pros:
Pant cuff guard
Comes 80% assembled
Comfortable wide handlebars with foam grips
Cons:
50 Lbs. shipping weight
Fenders sold separately
What Users Say:
For the remaining 20% of assembly, some have said that the included instruction booklet was not very helpful (however, that was not the case for everyone.) Because this beach cruiser bike comes in such a wide variety of colors and color combinations it is easy to please everyone who needs a bike with the exact same model and just a different color.
Schwinn 26" Ladies Perla 7-Speed Cruiser Bike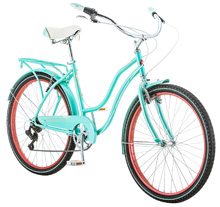 The design of the Schwinn Ladies Cruiser bike makes for a comfortable position to ride in, even for long periods of time. Both the 7-speed gear twisters on the grips and the rear derailleur are Schwinn made. This bicycle comes with Alloy V brakes for a sure stop every time. Like most beach cruiser bicycles, it comes with an extra-wide, padded spring seat and wide, whitewall tires.
Pros:
Lovely blue color that everyone loves and it stands out in a crowd
Full fenders which are great in all weather
Limited Lifetime Warranty
Cons:
Not eligible for international shipping
55 Lb. shipping weight
What Users Say:
Many users love the look and feel of the seat, brakes, and handlebar grips as they make for a very smooth and comfortable ride. Some report that it took up to two hours to put the bike together as the instructions weren't very clear and made suggestions to Schwinn to make an assembly video for their website. Others say it took them less than an hour and the hardest part was adjusting the brakes so that each brake pad was the same distance away from the rim so that it would stop the bike properly.
26" Huffy Nel Lusso Women's Cruiser Bike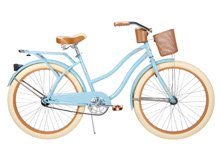 Most cruiser bicycles have wide, whitewall tires. Well, the Huffy Nel Lussa Women's Cruiser Bike has slightly wider tires that are all one color – a cream color – that gives a great retro look with either of the color choices for the bike: blue or yellow. The grips and padded, spring seat match in material but the seat is also embroidered for an added touch of class. Even though it has a retro look with the colors, plus the basket in the front and the rack on top of the back tire, this is still a fairly basic cruiser.
Pros:
Steel frame makes it durable
Cons:
Almost 50 Lbs. for a shipping weight
Not likely to work with anyone shorter than 5' 2"
What Users Say:
Most purchasers of this bike love that it comes mostly pre-assembled so that your own work is minimal. They also love the attention it gets them when riding around town or on campus. The only downside is when going UPhill as the bike is rather heavy with that steel frame so walking it up the hills can get a bit tiresome. However, some see the silver lining in this and point out that you're getting your workout!
sixthreezero Women's 26-Inch Beach Cruiser Bicycle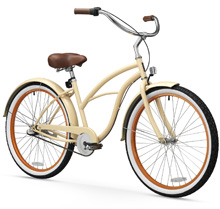 With 11 color combinations and 3 different speeds to choose from (single speed, three speed, or seven speed), this 17-inch framed cruiser bicycle with 26-inch tires offers a lot to customize for those who want to experience their bike ride. The three and seven speed bikes feature a Shimano gear hub and Nexus shifter.
The Kendra whitewall tires and classic brown saddle seat with complementary stitching add to the comfort of your ride. The grips match the seat for a great look overall. This cruiser bicycle is great for women from 5' 2" to 6' 2" in height. The comfort pedals make riding long distances a lot more comfortable on your feet, even in flip-flops, which everyone wears to the beach.
Pros:
Steel frame for durability
Color-matched fenders
Comes 85% pre-assembled
Cons:
35 Lbs. Shipping Weight
Not eligible for international shipping
What Users Say:
The only real thing that is consistent among all commenters about this bike is that customer service is somewhat lacking, but a lot of people don't have issues where they would have to deal with customer service. This bike has a lot of great features that make it a worthwhile investment for anyone.
Best Women's Cruiser Bikes
If you are in the market for a women's beach cruiser bike, then these four bicycles that we've just reviewed may be what you're looking for. Each offers a variety of different options to choose from, and some offer a variety among the four that are listed. So, no matter what you are looking for, you are bound to find it in any of the above women's cruiser bikes that we've reviewed for you. Don't forget to look at the pages for these bikes for even more information in case you have questions that weren't answered here as you never know what may come up in individual circumstances!