3 Best Indoor Cycle Trainer Reviews For Every Budget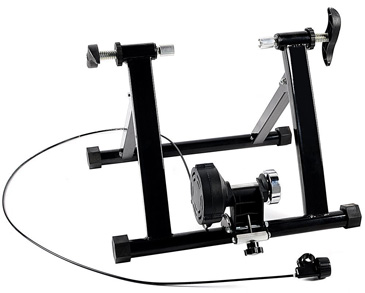 To be honest, indoor cycle trainers can never really replace the sheer joy and effect of biking outdoors with all the adrenaline rush and the sense of accomplishment that comes with the latter. But, they are a good alternative for you to train and keep in shape. Also, the weather outside might not be that good and you have no choice but to cycle all stationary for a while.
| | Cycle Trainer Reviews | Compatibility | Type | Extras | Price | |
| --- | --- | --- | --- | --- | --- | --- |
| Ohuhu Magnet Steel Cycle Trainer Stand | | 24" –28", or 700c wheels | Magnetic | Flexible internal resistance settings; Extra wide, stable frame | $ | Check Price On Amazon |
| Conquer Indoor Bicycle Trainer | | 26", 27", or 700c wheels | Magnetic | New quick release mounting system; Remote Shifter | $$ | Check Price On Amazon |
| Ascent Fluid Trainer | | 26", 700c (32 max), 29" (1.25 max) | Fluid | Fluid resistance with steel flywheel to create a smooth, road-like feel | $$$ | Check Price On Amazon |
Our Top 3 Indoor Cycle Trainer Reviews
There are a whole range of great indoor cycle trainers available for every pocket size and we'll present you with our best indoor cycle trainer reviews in three categories. First, there is our budget pick for starters, then there is our medium pick, followed our premium cycle trainer review.
Our Budget Trainer – Ohuhu Magnet Steel Cycle Trainer Review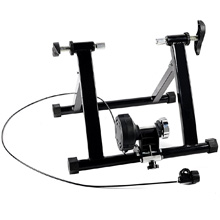 The Ohuhu Magnet Steel Cycle Trainer Stand is our starting pick but don't underestimate this subtle beast my friends. With a nice rating from the buyers and a sturdy working, this is a very good choice when you're looking for a cheap cycle trainer. Now there are some that are priced even lower than this one but this is the price tag that begins to offer quality stuff so that's why we chose it.
According to the manufacturer, it comes with a subtle magnetic resistance with little noise and progressive resistance for a good biking experience. Its internal resistance as expected can be adjusted to the difficulty of your choosing and the kind of exercise you want to undertake. The remote control is bar mounted and you can adjust it to your difficulty setting with ease. Apart from the wide body and foldable utility, it is pretty much standard when it comes to company claims. Now let us see what the customers have actually found shipped in their boxes as compared to the tall claims.
People with bikes of all kinds have taken a liking to this cheap cycle trainer and it does the job really well, albeit a bit noisy because of the magnetic technology that is inherently so.
Also read our 25 best bike trainer reviews.
Some people have complained that the stand failed to work with the bike tire or eroded the rubber. All of them got refunds after returning it back, and when you look at the number of good reviews the trainer has, these poor reviews can be seen as an anomaly. The product also honestly says in the description that it works with most 24-28" bicycles and certainly not all of them. So make sure your bike is compatible with the trainer before you buy it.
Overall, the Ohuhu is a really good indoor cycle trainer that can fulfill your basic needs and be your indoor cycling workhorse.
Our Medium Trainer – Conquer Indoor Cycle Trainer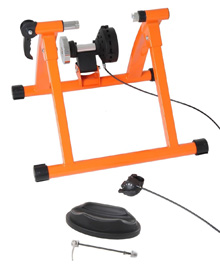 The Conquer Indoor Bicycle Trainer from Conquer is effectively an upgrade to the previous product. It has the same magnetic resistance design but with a more ergonomic design for quicker mounting and a remote controlled resistance shifter, it promises to be a better product then the the Ohohu trainer. But, is it indeed? Let's find out!
With a heavier shipping package than the budget pick and a better suitability for 27" and 700cc bikes, the trainer does comes with its goodies.
To couple with a mountain bike, it has been thoroughly advised to change the threads or you will create a ruckus each time you use it. You must remember that it is based on magnetic technology and already very loud for many people's liking so do remember to change the threads outdoor guys. The remote works well enough and instead of using that lever thingy, you can use the remote and make it difficult/easy as you want it to be.
Coming to customer reviews, it has got more than its fair share of poor reviews.
While most have praised it for the good manufacturing, some have complained about that and said that it didn't even lie flat on the ground and had to return it back. Now that is not something a good engineering team would let happen and if it did, the company deserved the poor rating.
In my educated guess, the product is really good and works but requires some tinkering before you can go off zooming to nowhere on it. The attachment process is unique for each bicycle and you may need to use your skills for that. If you can't this simply isn't the product you are looking for. So, if you can put together the extra bucks and move up the hundred quid mark, you will get something a lot better than this one.
Our Premium Trainer – Ascent Fluid Cycle Trainer Review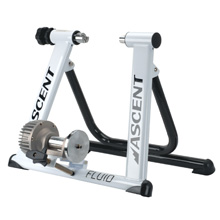 The Ascent Fluid Trainer is one of the best-rated indoor cycle trainers in the business right now. It has the best reviews and a really good design as well. But, what makes it so special that it costs almost 90% more than the Ohohou that was in our budget category? Let us dig in a little deeper.
The Ascent fluid trainer is very smooth compared to its competitors ranked below it. The reason as you can predict is a different resistance technology i.e fluid resistance. Not all of you are engineers but you would know that a fluid is a much better alternative to a magnet in these matters as it is common sense, but it is definitely more difficult to engineer a really good one. So, with this quiet trainer you can enjoy the music that you couldn't with those magnetic ones.
Now let us see what the customers had to say about that. Now what is the first positive thing is that I see no one-star reviews on this one. Normally, every product has a few of those courtesy poor shipping and other basic faults but this one has none of those. It is a sign of a really good product. Most of the lower ratings are due to the incompatibility with the customer's bikes. But they are so small in number that you can choose to ignore them and buy it.
Now this range is still not quite there for a professional trainer like the Olympic cyclists use so there will definitely be some hiccups in its performance if you are a pro or a consummate user. But, one thing that I can say for sure that it is value for money.
So, What's The Best Cycle Trainer?
At the end of our indoor cycle trainer reviews, which one do I recommend? I would really recommend the Ascent Fluid Trainer, but if that trainer is out of you budget range, both the Ohuhu and the Conquer will do the job as well. Both the magnetic ones work fine in most cases, albeit with a bit more noice.
If noice is of particular concern to you, click here for our review of the best quiet bike trainers.